Boni Smok Botania Mouthwash Support to Quit Smoking
Quitting smoke is not easy, but this action will be never late. Boni Smok Botania mouthwash is an herbal solution to reduce the smoking habit. Therefore can help you to quit your smoking habit effectively.
Before you smoke, please wash your mouth with this liquid. 3-4 times per day, 20 ml per time. You will no longer feel the taste of tobacco or cigarette when smoking, dramatically you will quit your smoking habit.
Origin: Made in Vietnam by Botania
EXP: new product, 24 months from the date of manufacturing
Package: 01 bottle x 150 ml
Ingredient: It was extracted from the herbal and natural material as below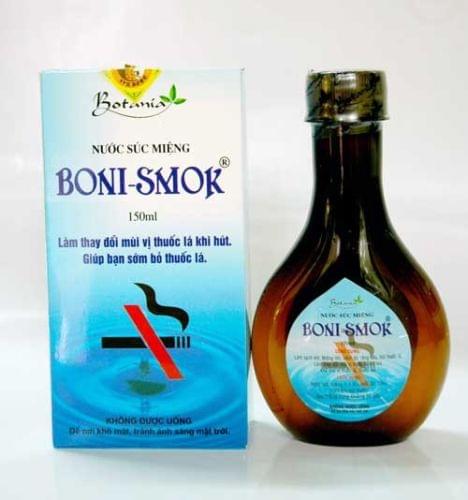 Caprifoliaceae – Kim Ngan Hoa: 3g
Taraxacum – Bo Cong Anh: 3g
Asteraceae – Cuc Hoa: 3g
Acid Citric: 0.6g
Natri Sulfate: 0.09g
Cinnamon Oil – Tinh Dau Que: 0,3g
Fresh Water: 150 ml
Boni Smok Botania Mouthwash Other info
Keep in a cool and dry place, do not drink, just for mouthwash only. This product is a functional food only, not drugs.
Shipping to Europe: 10-21 days
United States, Canada, America: 15-30 days
Asia, Australia, New Zealand: 12-25 days