BoniKiddy Botania strengthens resistance for Kids
BoniKiddy Botania stimulates the immune system, fosters the body, and increases resistance to children against pathogens such as bacteria, and viruses.
This product helps prevent respiratory diseases such as rhinitis, pharyngitis, bronchitis, bronchial asthma … Virus-caused diseases such as flu, chickenpox, and viral fever.
Origin: Made in Canada by Viva Pharma
Package: 01 box x 60 capsules
EXP: new product, 02 years from manufacturing date
How to use Bonikiddy?
The product can be mixed with milk, sugar, or water. The baby should drink 1 hour before meals.
Children from over 3 years old: 1 tablet x 2 times/day.
For children under 3 years old, please consult your doctor before use
Note: The product is not a medicine, it cannot replace medicine.
Ingredients: Colostrum, Echinacea purpurea, Royal Jelly, Vitamin C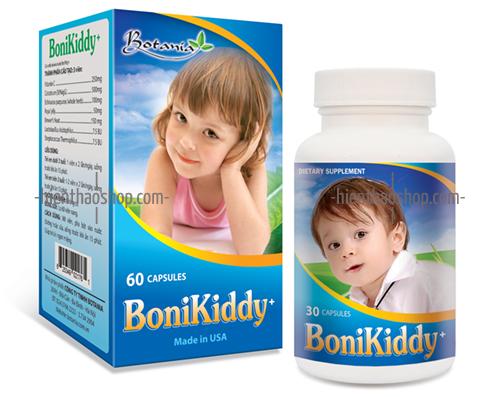 Other product information
Colostrum: Is the milk secreted in the first 48 hours after birth (after 48 hours, colostrum will disappear). In addition to giving your baby growth, colostrum also provides a large number of natural antibodies. Especially antibodies IgG (Immunoglobulin G), IgA, IGF… strengthen the child's immune system, as well as protect the digestive system and destroy pathogens. Cow's colostrum has very high antibody properties to help children strengthen their physical strength.
Echinacea purpurea: Immune booster effect, prevents colds, and respiratory infections such as rhinitis, pharyngitis, bronchitis…
Royal Jelly: Contains many B vitamins, folic acid, amino acids … and trace elements such as copper, potassium, iron, calcium, protein … are essential nutrients for human health. . Sugar in royal jelly is from pollen (a type of fructose), very suitable for the elderly, malnourished children.
Royal Jelly is one of the rare and precious natural herbs that is very safe for babies, helps prevent infection in children, and reduces symptoms of jaundice, and impetigo. Reduce abdominal pain, and enhance immunity. Royal Jelly is also good for growth retardation, growth retardation, and anorexia in children, so it also helps children grow and develop healthily.
Shipping: Europe: 10-21 days
United States, Canada, America: 15-30 days
Asia, Australia, New Zealand: 12-25 days
Frequently Bought Together