Kedermfa topical medication Anti-fungal, Anti-Bacterial, 03 boxes x 5 gr
Kedermfa topical medication contains Ketoconazole and python fat. It has the main effect of anti-fungal, anti-bacterial, and harmful parasites. The product is often used to treat common dermatological diseases such as ringworm, scalp fungus, nail fungus, and systemic fungus.
Origin: Made in Vietnam by Quang Minh Pharma
Packing: 03 Boxes x 5 grams total 15 grams, free shipping
EXP: new product, 24 months from the date of manufacturing
Composition of Kedermfa
Ketoconazole 2g, Neomycin sulfate 500.000UI, Python fat, and excipients qs 100g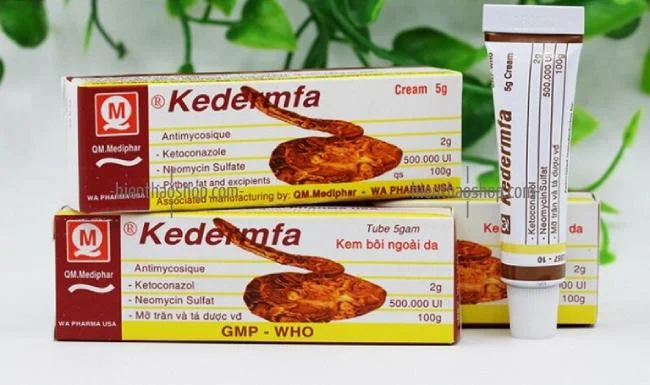 How to use Kedermfa products?
After cleaning the wound, apply a little amount of Kedrmfa to completely cover the affected skin areas and gently massage for a minute, use 1 – 2 times daily or ask your physician for advice.
Contraindication: People who are allergic to hypersensitivity to any ingredient of the drug and have liver disease.
Women who are pregnant or intend to become pregnant, women who are breastfeeding.
Do not use Kedermfa for ringworm at the same time as other drugs such as cisapride, simvastatin, astemizole, terfenadine, triazolam quinidine, lovastatin, and pimozide.
Consult your doctor when using the product in combination with other medications.

Storage: Store at a dry and cool place ( below 30C), and keep away from light. 

Shipping: Europe: 10-21 days
United States, Canada, America: 15-30 days
Asia, Australia, New Zealand: 12-25 days
Frequently bought together