Maxxhair Prevent Hair Loss Supplement Vitamins and Minerals
Maxxhair Prevent Hair Loss is an herbal supplement of vitamins and minerals. It helps to enhance the health of the hair. It makes the hair grow fast, strong, smooth, and beautiful. Also, Maxxhair helps prevent hair loss and eliminates the toxic effects of chemicals used for the hair.
Origin: Made in Vietnam by IMC pharmacy
Expiration date: 2 years from the date of manufacture, a new products
Package: 01 Box of 3 blisters x 10 Capsules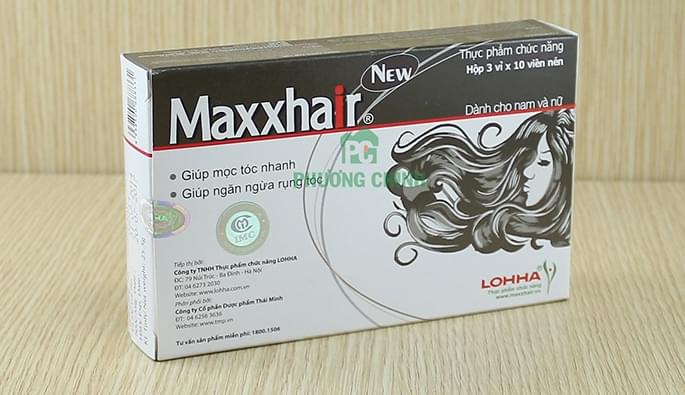 The indication: 

Maxxhair Prevent Hair Loss is used for many cases of hair loss treatment. After many reasons which caused hair loss such as endocrine disruption, aging, chemical, undernutrition, stress, and water source, people are at risk of baldness, and patients with hair loss after chemotherapy
Ingredients:
Immune-Gamma®: … 25mg
L-Arginine ……………… .75mg
L-carnitine fumarate: 50mg
Zinc (Zn): ……………… 5mg
Vitamin B5: …………… 3.5mg
Biotin: ………………… .20mcg
How to use Maxxhair products?
For the support treatment: takes 4 capsules, two times per day. Help prevent hair loss: 2 capsules per day, divided into 2 times.
For most cases, you are recommended to use a Maxxhair continuous for 2 to 4 months for the best results.
In case need to eliminate the chemicals toxic from the body and the hair after each hair dye, use 4 tablets 2 times a day; Then continue to use 2 capsules daily for the next 2 weeks.
Please take the product about 30 minutes before meals or after eating for 1 hour.
Storage: Keep the product in a dark, dry place at room temperature.
Shipping: Europe: 10-21 days
United States, Canada, America: 15-30 days
Asia, Australia, and New Zealand: 12-25 days
This product is not a medicine, it is not a substitute for medicine.
Products may be subject to import tax depending on the laws of each country, we are not responsible for this tax
You may also like other products