Nattospes Nattokinase is the food Supplement uses to Prevent Cerebral Vascular. It supports stabilizing the blood pressure, prevention, and breakdown of thrombus, and enhancing blood circulation. Support for relief and prevention of cerebral vascular accident -CVA, stroke and its sequela; thrombo-related such as thrombophlebitis, arteritis, angina pectoris, heart attack, senile dementia
Origin: Made in Vietnam by A AU Pharma
Package: Box of 3 blisters x 10 tablets
Expiration: new product, 24 months from the date of manufacturing
Compositions: Each tablet contains: Nattokinase………300FU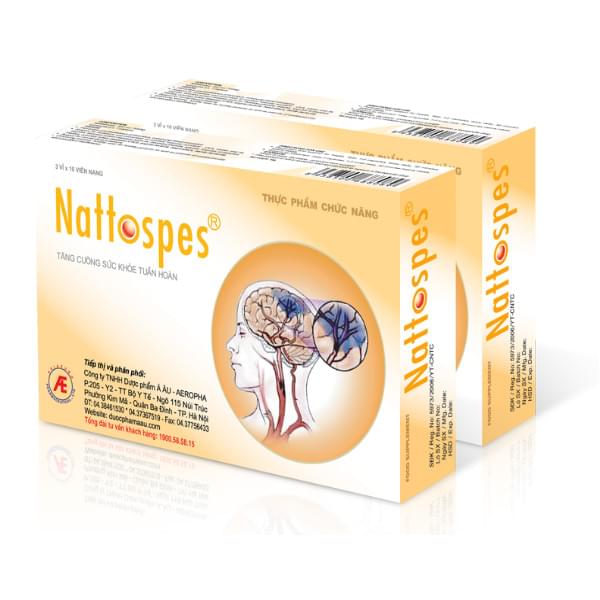 With the main ingredient from the nattokinase enzyme, Nattospes supports the treatment and prevention of cerebrovascular accidents as well as relapse prevention, helping to improve sequelae after stroke. It has benefits such as below:
Prevent and dissolve blood clots, and increase circulation and blood circulation.
Support treatment, prevention of stroke and its sequelae; Pathological conditions associated with blood clots: thrombophlebitis, varicose veins, complications of diabetes, coronary artery disease, angina, myocardial infarction, memory loss in the elderly.
Support to stabilize blood pressure.
Helps increase vitality, and improve fatigue, and weakness in normal people as well as people with cardiovascular diseases and hyperventilation.
Directions for use Nattospes Nattokinase Food Supplement 
Prevention and support for health: take 1-2 capsules, twice daily
Support to relieve: Take 2 capsules, 2-3 times daily
Use 30 minutes before meals or 1 hour after meals
Shipping: Europe: 10-21 days
United States, Canada, America: 15-30 days
Asia, Australia, New Zealand: 12-25 days