Omi Facial Mask four-layer prevents dust, bacteria, virus, UV resistance
Omi Facial Mask prevents dust, bacteria, virus and reduces UV rays. It contains 4 layers of non-woven fabric, waterproof, and breathable. It does not cause skin allergies.
Origin: Made in Vietnam by OMI
Packing: Box contains 50 masks, free shipping
EXP: in late 2022 or later
Composition: includes 4 layers of high-grade non-woven fabric
The outer layer of PP fabric is smooth and has waterproof properties, effectively preventing liquid particles from splashing out when the patient sneezes, coughs, or breathes heavily. The surface of PP fabric is smooth, no fluff causes itching, and does not cause allergies.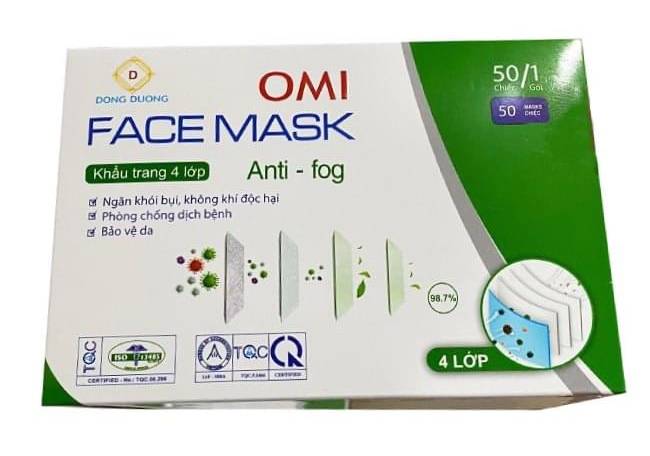 The plastic nose bar is manufactured from primary plastic components, has no odor, has a toughness and moderate thickness. It is used as a nose brace to keep the mask close to the face, without causing movement to obstruct the vision of the eyes or cause pain when used.
Ear elastic: has good elasticity, does not cause ear pain when used for a long time.
Shipping: Europe: 10-21 days
United States, Canada, America: 15-30 days
Asia, Australia, New Zealand: 12-25 days
Frequently Bought Together
Golden Star Balm Vietnam, Anti-Cold, Cough, Headache, Mosquito
Crila Crinum Latifolium Thien Duoc, Prostate Ovarian Support