Qik hair women for sale 30 capsules
Qik hair women for sale have a special formula for women, containing natural essences, balances the endocrine nervous system, and growth of hair germ cells. It reduces hair loss effectively, stimulates hair to grow fast, and strong, and helps hair thick and shiny. It also helps restore damaged hair inside, stabilizes scalp moisture, limits dry hair, breakage, split ends, and slows down the graying process.
Origin: Made in the USA by St Paul Brands
Package: Each box contains 30 capsules
Expiration: new product, 02 years from manufacturing date
The composition of one capsule
Cynatine®130 mg. Aged Black Garlic Extract 120 mg. Millet Seed Extract 100 mg. Black Cohosh Extract 50 mg. Pumpkin Seed Extract 50 mg. Horsetail Extract 50 mg. Hibiscus Flower Extract 50 mg. Laminaria Angustata Extract 30 mg. Pre-mixed powder contains vitamins and minerals160 mg. Biotin, Vitamin B5, Vitamin B1, Vitamin D3, Zinc, Iron, Potassium, L-Cystine, Omega-3 Magnesium Stearate.
How to use: Drink 2 times a day (morning, afternoon), 1 capsule each time. It is recommended to use enough 3-month course for the best results. Use it regularly afterward to maintain results
Target user: Women over 18 years old with symptoms of hair loss, thinning, or damaged hair. The people have dry, fibrous, split hair due to: Neurocrine disorders (postpartum and perimenopause – menopause …), stress (stress), nutritional imbalances, inflammation, side effects of drugs, chemicals… Recommended before and after using hair chemicals (perm, straightening,

dyeing

…) or chemotherapy, radiation.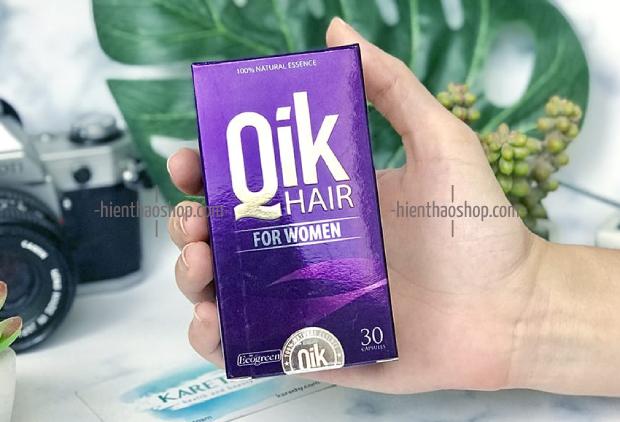 CLINICAL RESEARCH RESULTS
The results of clinical studies at Pavia University show that Cynatine in Qik Hair helps:
– Reduce hair loss 4 times after 1 month
– Increased hair growth in 90% of users after 3 months
– Hair strength increased in 75% of users
– Increased shine in hair in 95% of users
In addition, Qik Hair also helps stabilize the moisture, elasticity, and firmness of the scalp.
Storage: Store in a cool, dry place, below 30 degrees Celsius, away from moisture and sunlight, and keep it out of reach of children.
Shipping: Europe: 10-21 days
United States, Canada, America: 15-30 days
Asia, Australia, New Zealand: 12-25 days
Frequently Bought Together