Sell Vietnam White Tiger Balm Best Price 
We are very pleased to sell Vietnam White Tiger Balm at the most competitive price and free shipping cost from Vietnam. Our White Tiger Balm product is made by Bao Linh Oriental Medicine Co., Ltd, the pharmacy that produces the herbal medicine for Vietnam market and export.
Vietnam White Tiger Balm applies for the common cold, runny nose, cough, sore throat, and insect bites.
This Balm is also very useful for relieving the minor pains in muscles and joints, rheumatic, osteoarthritis, neuralgia, sciatica, lumbago, disc and back pain, muscle tension after taking the exercise or playing the sport.
Origin: Made in Vietnam by Bao Linh Pharma
Exp: new product, 02 years from the manufacturing date
Package: 20 grams of net weight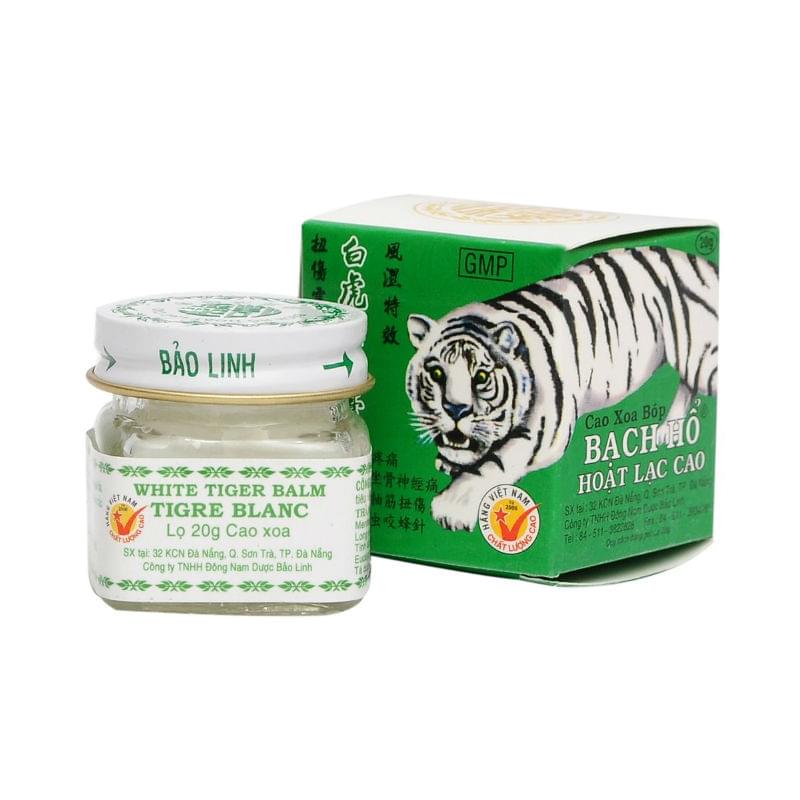 Composition: Menthol: 1.6 g, Clove, essential oil: 10.4 g, Cinnamon, essential oil: 0.3 g, Methyl salicylate: 4.0 g
Peppermint oil: 2.18 g, Eucalyptol: 0.98 g, Camphor: 3.18 g
Indication: common cold, runny nose, cough, sore throat, insect bites, relieving the minor pains in muscles and joints, muscle tension
Use the White Tiger Balm for the affected areas 2 to 4 times daily. Apply a litter amount to your hand and rub over for at least 5 minutes. Avoid contact with and eyes and open skin.
In general, the application is sufficient for a few days. Without medical advice, you should no longer use Tiger Balm as 10-14 days.
Do not use in children under 5 years or a sensitivity to the ingredients
When a bronchial cough, and morning and evening, rub balm on the chest and back. Keeping up with air-permeable wool or cotton cloth warm. No airtight bandage.
At the first sign of a cold once the nose – not the nostrils – with the balsamic spread. Rub With hoarseness, runny nose, and sore throat the balm on her neck.
For muscle and joint pain, aching bodies rub hard with the balm. Warming the affected areas with air-permeable wool or cotton cloth. No air-permeable bandage.
For insect bites, the sting – if still available – then remove and rub the body all around with the balm.
After applying the balm, please wash your hand with warm water.
Shipping: Europe: 10-21 days
United States, Canada, America: 15-30 days
Asia, Australia, New Zealand: 12-25 days
Frequently Bought Together