Yoosun Rau Ma skin cream tube 25 grams x 2 tubes, free shipping
Yoosun Rau Ma skin cream or Yoosun pennywort cream is a product of Dai Bac Co., Ltd. It is a medicine used to nourish the skin, prevent acne and help fade scars quickly. It has an active ingredient that is extracted from Pennywort (Gotu kola) plant.
A tube of Yoosun Rau Ma has the following ingredients: carotene, saponins, alkaloids, flavonoids, calcium, iron, B vitamins, vitamins C, K, etc.
Origin: Made in Vietnam by Dai Bac Co., Ltd
Content: 1 tube x 25 grams net weight
EXP: 02 years from the manufacturing date
Use and Indication of Yoosun Rau Ma
Keeps skin soft and smooth, retains moisture for the skin and prevents acne, boils, and dermatitis. Quickly fade scars, fade dark spots caused by acne or skin wounds. It also helps wounds heal quickly, dissolve bruises, hematomas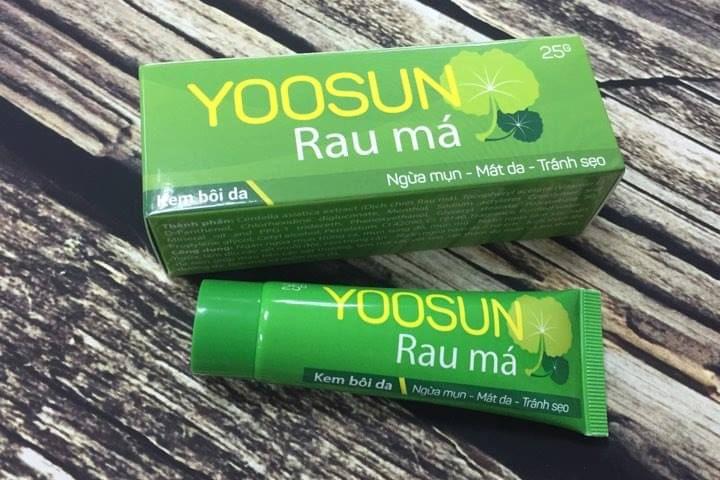 How to use the Yoosun cream?
Before applying, clean the skin that comes in contact with the medicine. Then apply a small amount of cream to the skin, cover the area to be treated. After applying, it is necessary to let the skin dry, avoid contact with a cloth or other objects, and use 2-3 times a day.
Contraindications of this cream
Do not use it for people with a history of hypersensitivity to any of the ingredients in the drug. Can be used by pregnant or lactating women.
During the use of the drug, the patient absolutely adheres to the dosing instructions of the treating doctor, avoiding increasing or decreasing the dose to speed up the treatment time.
Other related information
Storage in a cool and dry place, avoid direct sunlight.
Shipping: Europe: 10-21 days
United States, Canada, America: 15-30 days
Asia, Australia, New Zealand: 12-25 days
Frequently bought together products