Ecosip Sheng Chun Tang Herbal Patch, Pain Relief
Ecosip Sheng Chun Tang Herbal patches are made of herbal ingredients. Ecosip patches are very well tolerated by your skin. You can easily cut them in half to fit onto a variety of pain areas.
Made in Tawan by Sheng Chun Tang Pharma
Packing: 01 pack x 5 patches , Patch size: 7,5cm x 10cm
Expiration: new product, 24 months from the date of manufacturing
Indication: Use to relieve minor pain such as Bruises, sprains, muscle pain, joint pain, back pain, shoulder pain, nerve pain, and muscle fatigue.
Composition: 10.0mg Methyl Salicylate, 30.0mg Myrrha, Bletilla Rhizome, Radix rhapontici (Lou Lu), Flos Carthami (Hong Hua), Cimicifuga Rhizome (Sheng Ma), Radix Ampelopsis (Bai Lian), Radix Et Rhizoma Rhei (Da Huang), Fructus Gardeniae (Zhi Zi), Radix Glycyrrhizae (Gan Cao), Indigo Naturalis, Zinc Oxide, 40.0mg Aloe Vera, 40.0mg Menthol, 410.0mg Resin, Indigo Carmine, Tartrazine, Sesame Oil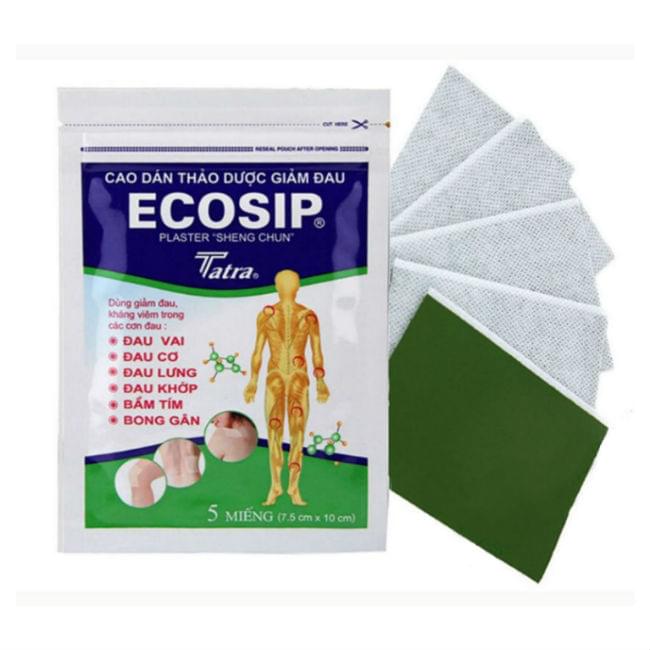 Directions: Clean and dry the affected area; remove the patch from the backing film and apply it to skin. Do not use more than 3 patches a day and not use more than 7 consecutive days. Not recommended for children under 2 years old and pregnant women.
Shipping: Europe: 10-21 days
United States, Canada, America: 15-30 days
Asia, Australia, New Zealand: 12-25 days
Frequently Bought Together