Valian-X Valerian Root Relief Insomnia And Anxiety
Valian-X Valerian Root is an herbal product that contains Valerian Root Powdered Extract (Valeriana officinalis) 445 mg. It helps to sleep by increasing body neurotransmitter that causes sleep naturally.
With its good property, Valerian has been used as a medicinal herb since ancient times in Greece and Rome. Hippocrates and Galen described its properties and lately prescribed it as a remedy for insomnia. Nowadays, The Native Americans used it in healing wounds and ulcers, as well as a cough remedy.
Origin: Made in Thailand by Mega Wecare
EXP: new product, 02 years from the manufacturing date
Package: a box contains 100 soft gel capsules.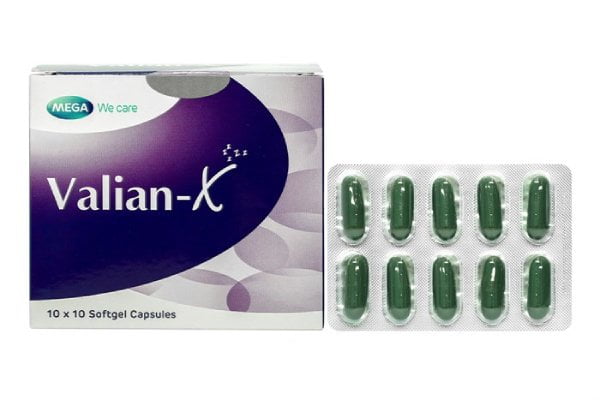 How to Use Valian-X?
Take 1-2 capsules about 30 minutes before bedtime or as directed by a Doctor. Increasing the dosage does not increase the effectiveness of the drug.
Excipients: Soybean oil, vanillin, hydrogenated vegetable oil, white wax, lecithin, gelatin, glycerin, purified water, titanium dioxide, black iron oxide, copper chlorophyll complex E 141
Side Effects: Valian-X may interfere with the ability to judge or drive within 2-3 hours after ingestion. Rare side effects such as headaches, and digestive disorders.
Caution: Do not use on patients who need to operate machines or drive. Patients taking antidepressants, sedatives, or other sleep medications should only use Valerian when under the supervision of a physician.
Shipping: Europe: 10-21 days
United States, Canada, America: 15-30 days
Asia, Australia, and New Zealand: 12-25 days
Frequently Bought Together